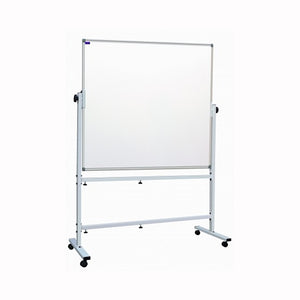 A cost effective option for a quality mobile whiteboard, featuring a double sided durable Premium Magnetic whiteboard surface in a variety of sizes

WITAX™ whiteboards are premium quality dry-erase writing surface with a polymer-on-steel finish. They are rigid but lightweight whiteboards, making them easier to install and are made in a large range of sizes from A4 up to 3600 x 1200mm. They are an economical choice ideal for situations where the writing surface is not in constant use. Outside of
classrooms, most people are only writing and erasing occasionally.
The mobile frames are a strong square-profile tubular steel in a gloss white finish. Now with stronger brackets and larger castors for better movement on carpet - making them ideal for in the classroom or in the office. All castors are lockable to stop the board moving while in use.
Features include:
• Smart aluminium frames
• Galvanised steel backing
• 5 Year surface guarantee
• FREE fixing kit with all boards
• FREE pen tray with all boards
FREIGHT INCLUSIVE - EASY ASSEMBLY REQUIRED
Model: ALX/WTX/Mobile
*** PLEASE ENSURE YOU CHECK ITEMS FOR DAMAGE IN TRANSIT BEFORE ACCEPTING
Can't find what you're looking for or have a question? Our knowledgeable staff can answer all your questions regarding office furniture and ergonomics. We also offer custom furniture and office design services to suit your individual or business needs. Give us a call on 04 232 3405 or email us directly at 
sales@dobbins.co.nz